Home --> Index of drilling & boring tools --> forsnter bits > t.c.t. forstner bits
Carbide Tipped Forstner Bits :
After Benjamin Forstner invented this special bits more than a century ago, it has been through many changes so far. To inlay carbide on the cutting edge to last and maintain its cutting ability, carbide tipped ones just fit this need. Besides traditional type, circle blade type has invented due to its stability and fast chip ejection.
1) regular type :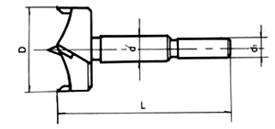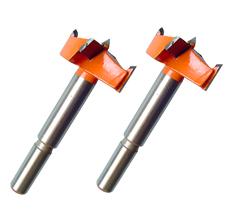 2) circle blade carbide tipped :

T.C.T Forstner Bits

* Made of high carbon steel, precision ground finish.
* With carbide tipped brad point, 2 main cutters and 2 peripheral cutters.
* long life thanks to precision ground carbide cutters.
* For drilling dimensionally accurate and tear-free holes in soft and hard wood, resin bonded and plastic coated laminates, veneered wood sheet, chipboard, and other forms of compressed wood sheet.
* Suitable for carpenters and joiners, specially in window and kitchen installation.
* This bit is designed for a stationary drilling operation such as drill press.
* Hex Shank & Quick Change Hex Shank are available.
* Forstner Bits Set are available.
Metric Sizes (mm) Fractional Sizes (inch)