Home > index of woodworking clamps >boomer bar clamp and guide fence system
This smooth quick action bar clamp can be set up with one -hand operation.
The whole clamp made of aluminum extrusion is straight and robust and clamping mechanism is made of
hardened steel for powerful clamping action. And its jaw is made of solid nylon.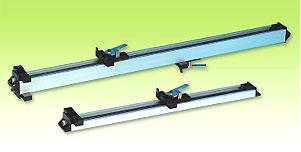 Boomer bar clamp

103-FM14

20" Length (14" Grip)

103-FM24

30" Length (24" Grip)

103-FM36

42" Length (36" Grip)

103- FM50

56" Length (50" Grip)