Home --> Index of drilling & boring tools -->Auger Bits & Auger Bits Set > snake head auger bits p10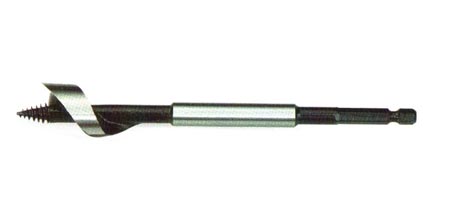 Snake Head Auger Bits / Item No. 229-P10 :
1) Snake Head auger bits with 1/4" hex shank.
2) Special design for faster chip ejection.
3) Full screw tip for ease of use and pull through.
4) Single outer cutting spur for splinter free drilling and clean holes.
5) Full length heat treatment: body is stronger and lasts longer.
6) Grooved hex shank prevents slipping in drill chuck or bit extension.
7) Fits all standard 1/4" quick change chucks.
8) Available material: 45#, 60#
Packaging: Individual Plastic Tube or Plastic Hang Bag.

Metric Sizes (mm):
Diameter:
12mm x 166mm OAL
16mm x 166mm OAL
19mm x 167mm OAL
22mm x 167mm OAL
25mm x 167mm OAL
28mm x 169mm OAL
32mm x 169mm OAL

Fractional Sizes (Inch):
Diameter:
1/2" x 166mm OAL
5/8" x 166mm OAL
3/4" x 167mm OAL
7/8" x 167mm OAL
1" x 167mm OAL
1-1/8" x 169mm OAL
1-1/4" x 169mm OAL