Home > woodworking accessories > miter gauge
Right angle miter gauge & quick lock miter gauge :
Two main miter gauges are included into our range. The right angle miter is made die-cast aluminum and the gauge fits any design with a basic 3/4" (width) x 3/8" (depth) dimension slot. This double faced miter gauge ensures 90 degree miters, and makes the angle cutting simple and accurate.
The other main gauge is quick lock one which can fits a standard miter slot, and has positive stops at 90 and 45 degrees, left and right. The D handle grip is both more comfortable and safer than the standard straight miter gauge handle, and there is a trigger to activate the clamp.
Quick Lock Miter Gauge
<![if !vml]>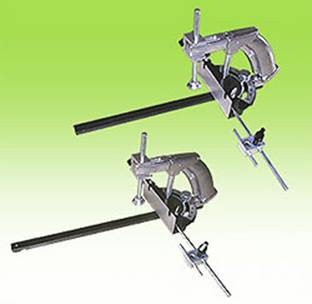 <![endif]>
With Adjustable Stop Rod
Holds Wood With a Squeeze of The Handle!
Tighten this miter gauge onto wood of varying thickness just by squeezing its D-handle grip, and
the tight hold for accurate table top cuts stays tight. Adjustable stop rod limits your cut to its proper width. Fits 3/4" x 3/8" table slots.
A) Model No.: 269-60100

Packing info:

<![if !vml]><![endif]>

1 Set / 1Color Box

<![if !vml]><![endif]>

20 Color Boxes / 1 Carton

<![if !vml]><![endif]>

1 Set / N.W.: 40KGM G.W.: 41KGM

<![if !vml]><![endif]>

Measurement: 3.9 FTQ
B )Model No.: 269- 60100C (For T-Slot)

Packing info:

<![if !vml]><![endif]>

1 Set / 1Color Box

<![if !vml]><![endif]>

12 Color Boxes / 1 Carton

<![if !vml]><![endif]>

1 Set / N.W.: 24KGM G.W.: 25KGM

<![if !vml]><![endif]>

Measurement: 2.5 FTQ
====================================================
<![if !vml]>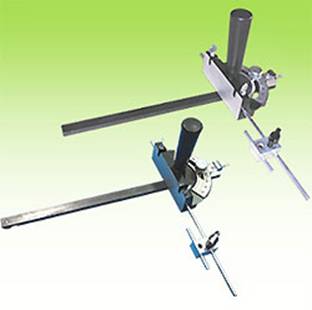 <![endif]>
C) Model No. : 269-60100D

Packing info:

<![if !vml]><![endif]>

1 Set / 1Color Box

<![if !vml]><![endif]>

20 Color Boxes / 1 Carton

<![if !vml]><![endif]>

1 Set / N.W.: 28KGM G.W.: 29KGM

<![if !vml]><![endif]>

Measurement: 3.9 FTQ
D ) Model No. : 269-60100E (For T-Slot)

Packing info:

<![if !vml]><![endif]>

1 Set / 1Color Box

<![if !vml]><![endif]>

12 Color Boxes / 1 Carton

<![if !vml]><![endif]>

1 Set / N.W.: 16.8KGM G.W.: 17.8KGM

<![if !vml]><![endif]>

Measurement: 2.5 FTQ