Home --> Index of drilling & boring tools -->Auger Bits & Auger Bits Set > four flute auger bits ( quad auger bits )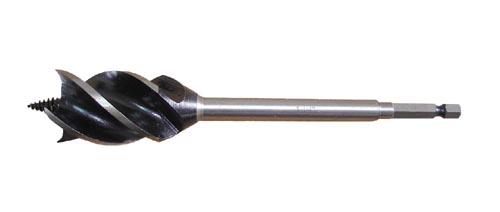 Four Flute Auger Bits ( Quad Auger Bits ) / Item No. 229-P9 :
1) Four flute auger bits with 1/4" hex shank, spray painted slot.
2) Four flute design for faster chip ejection.
3) Full screw tip for ease of use and pull through.
4) Cutting spurs: cutting spurs have 4 cutting edges for added durability.
5) Tapered flute: for less binding and ease of use.
6) Full length heat treatment: body is stronger and lasts longer.
7) Grooved hex shank prevents slipping in drill chuck or bit extension.
8) Fits all standard 1/4" quick change chucks.
9) Available material: 45#, 60#, HSS
Packaging: Individual Plastic Tube or Plastic Hang Bag.

Metric Sizes (mm):
Diameter: 12mm, 16mm, 19mm, 22mm, 25mm, 28mm, 32mm, 35mm
Overall Length: 165mm

Fractional Sizes (Inch):
Diameter: 1/2", 5/8", 3/4", 7/8", 1", 1-1/8", 1-1/4", 1-3/8"
Overall Length: 165mm
4 pcs 4 Flute Auger Bit Set :


Item No.: 229-P9-4A
Includes: 1/2" - 5/8" - 3/4" - 1" x 4 pcs


Item No.: 229-P9-4B
Includes: 12 - 16 - 19 - 25mm x 4 pcs


Item No.: 229-P9-4AC
Includes: 5/8" - 3/4" - 7/8" - 1" x 4 pcs


Item No.: 229-P9-4D
Includes: 16 - 19 - 22 - 25mm x 4 pcs


Item No.: 229-P9-4E
Includes: 3/4 "- 7/8" - 1" - 1 1/8" x 4 pcs


Item No.: 229-P9-4F
Includes: 19 - 22 - 25 - 28mm x 4 pcs

7 pcs 4 Flute Auger Bit Set :

Item No.: 229-P9-7A
Includes: 5/8" - 3/4" - 7/8" - 1" - 1 1/8" - 1 1/4" - 1 3/8" x 7 pcs


Item No.: 229-P9-7B
Includes: 16 - 19 - 22 - 25 - 28 - 32 - 35mm x 7 pcs

7 pcs 4 Flute Auger Bit Set :

Item No.: 229-P9-7C
Includes: 5/8" - 3/4" - 7/8" - 1" - 1 1/8" - 1 1/4" - 1 3/8" x 7 pcs


Item No.: 229-P9-7D
Includes: 16 - 19 - 22 - 25 - 28 - 32 - 35mm x 7 pcs