Home --> Index of drilling & boring tools --> countersinking drill bits-> Adjustable Countersink Drill Bits - type J
Adjustable Countersink Drill Bits ( Adjustable Pilot Drill Bits ) Type J, 1/4" Hex Shank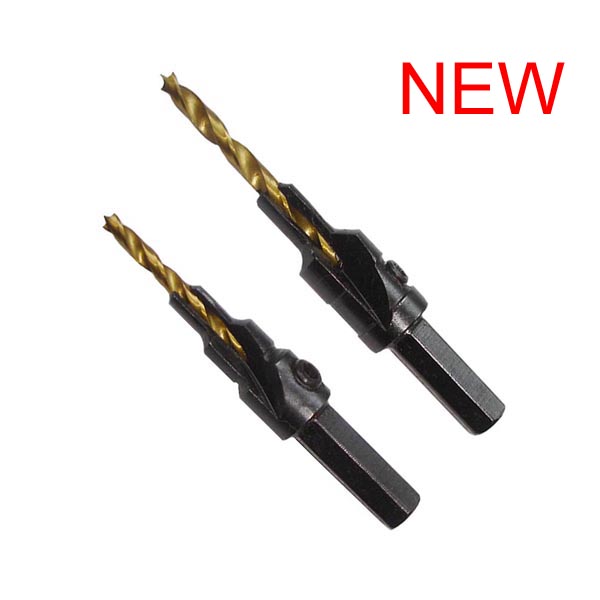 * Brad Point Drill Bits made from high-speed steel with Titanium Coated or Bright Finish.
* Drill, countersink and counter-bore precision screw holes in a single operation with Generalís Adjustable Pilot Bit Set. Featuring high-speed steel drill bits with adjustable lengths, this veracious set can be a great time saver for fine carpentry and woodworking. * The 1/4" hex shank allows the set to be used in both electric drills and power screwdrivers.
* Countersink drill bits form pilot holes for screws and create a conical recess for the screw head. A countersink drill bit is best used on soft materials such as wood or plastic, and will not work on metals. It is often preferable to create the countersink first, then drill into the center. Counter sink drill bits can be used with power drills and some routers. Using a combination counter sink and clearance drill can create both the counter sink and the pilot hole in one action. An adjustable stop can be used to fix the depth.
* Naturally different sized countersink drill bits create different sized countersinks and holes. Some counter sinks are available with fitted handles so that the shallow depression for the screw head can be formed by hand, eliminating the need to constantly change bits. Some countersink drills can remove plugs of wood before creating the hole. These plugs can then be used cover the recessed screw heads.
* Countersink Drill Bits Set are available on request.
Size available:
| | | | | |
| --- | --- | --- | --- | --- |
| Item No. | Size Metric | Size Inch | For Wood Screw Size | Countersink Size |
| | | | | |
| | | | | |
| | | | | |
| | | | | |
| | | | | |
| | | | | |
| | | | | |
| | | | | |
| | | | | |
| | | | | |