Home --> Index of drilling & boring tools -->carbide tipped " V " point dowel drill for through holes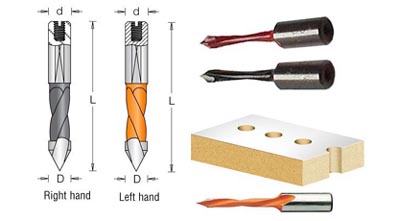 Carbide Tipped "V" Point Dowel Drills
Through Holes type, Right Hand & Left Hand
* Through Hole (V-Point) are used to drill through the material primarily for the insertion of dowels.
* Through Holes type suitable for Through holes on solid wood and laminates, the bits are used to
bore holes for the insertion of door hinges. .
* Use for drilling machines with chucks or adapters.
* Carbide Tipped with center point and M5 x 10mm adjusting screw.
* The tools mentioned above and listed below are to be used in Boring Machines only!
* Inch Size are available.
* Packaging: Individual Packaging in plastic hang pouch or plastic tube.
Metric sizes (mm)
Type A: Dowel Drills with 10 x 20mm shank
Type B: Dowel Drills with 10 x 27mm shank or 10 x 30mm shank