Home --> Index of drilling & boring tools -->brad point drill bits & brad point bit set -> HSS Lipped Brad Point Drill Bits - Type F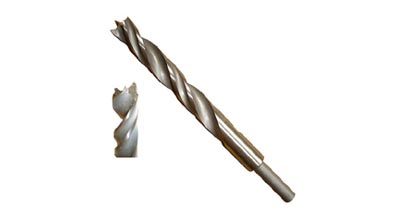 HSS Lipped Brad Point Drill Bits - Type F ( Four Flute )
HSS Lipped Brad Point Drill Bits are diamond sharpened on a grinding machine. Made of high
speed steel with brad point and 4 shouldered cutting spurs. the drill bits stay sharp more
time longer than other high carbon steel wood bits. the polished double edge flutes produce
incredibly accurate and clean holes. the sharp and defined true brad point tips have a negative
angle that score the hole perimeter, resulting in effortless, tear free clean entry.
* For drilling accurate, splinter-free holes in soft wood, hard wood, plywood and hardboard.
* Hex Shank are available.
* Shank size larger than 10mm or 3/8" use reduced shank.
* Brad Point Drill Bits Set are available.
* Packaging: Individual Packaging in plastic hang pouch.
Metric sizes (mm)