Home --> Index of drilling & boring tools -->brad point drill bits & brad point bit set -> Stubby Brad Point Drill Bits - Type G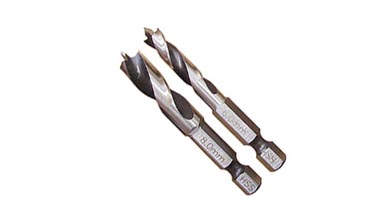 HSS Brad Point Drill Bits - Type G / ( Stubby Bits with Quick Change Hex Shank )
* Made of high speed steel with brad point and 2 shouldered cutting spurs.
* A much longer cutting life than high carbon steel wood bits.
* The choice for serious woodworkers.
* For drilling accurate, splinter-free holes in soft wood, hard wood, plywood and hardboard.
* For any standard cordless drill, because of 1/4" Hex Shank.
* Fits for all bit holders.
* Brad Point Drill Bits Set are available.
* Packaging: Individual Packaging in plastic hang pouch.
6 pcs HSS Hex Shank Brad Point Drill Bits Set /

Item No. : G-Stubby-6A

( HSS Stubby Bits Set ) in Double Blister Card

6 pcs HSS Hex Shank Brad Point Drill Bits Set
Size Include:


3mm - 4mm - 5mm - 6mm - 8mm - 10mm x 6 pcs

6 pcs HSS Hex Shank Brad Point Drill Bits Set /

Item No. : G-Stubby-6B

( HSS Stubby Bits Set ) in Double Blister Card

6 pcs HSS Hex Shank Brad Point Drill Bits Set
Size Include:

3/32" - 1/8" - 3/16" - 1/4" - 5/16" - 3/8" x 6 pcs
Metric sizes (mm) Fractional sizes (Inch)