Home > index of woodworking clamps >bar clamps >All Alum. power bar clamp -Lever type :
All Alum. power bar clamp - Lever type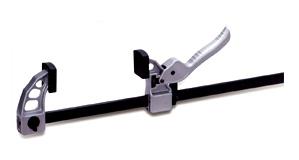 This is robust power bar clamp made of aluminum, which can generate 320 kgs / 700 lbs working force for clamping. Patented design on its lever handle is to press its brake pin. Both jaws is installed with non-marring pad grip. It can serve vices as well due to its power clamping force as small work stand includes. It is is ideal for clamping, drilling gluing and welding .
ITEM
CLAMPING

CAPACITY

THROAT DEPTH
PACKING
105-LA150
6"(150mm)
85mm

BULK ,12PCS /12.9 ,13.3kgs /45x33x14cm/0.74'

105-LA300
12"(300mm)
85mm

BULK ,12PCS /14.7 ,15.2kgs /59x33x14cm/1.0'

105-LA450
18"(450mm)
85mm

BULK ,12PCS /16.5 ,17.1kgs /76x33x14cm/1.25'

105-LA600
24"(600mm)
85mm

BULK ,12PCS /18.3 ,19kgs /93x33x14cm/1.52'